Author Takeover is a new feature here in HBT where we let our current favorite authors took over the blog. Expect Guest Posts, Interviews, LOTS of Playlists, giveaways and of course, a bunch load of FUN!
---
Diana is one of the nicest author I've ever interacted with and I'm so glad that she took the time to entertain me! And her book sounds amazing!
The Book..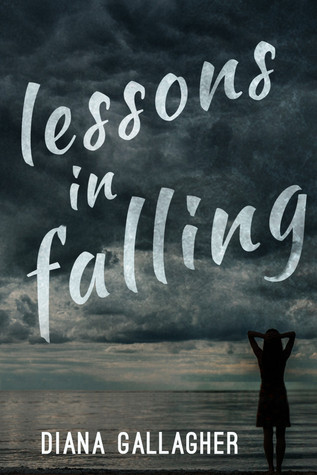 Expected publication: September 8th 2015 by Spencer Hill Contemporary

YA > Contemporary | Romance

 
About the book..
When Savannah Gregory blows out her knee –and her shot at a gymnastics scholarship – she decides she's done with the sport forever. Without gymnastics, she has more time for her best friend, Cassie. She's content to let her fun, impulsive best friend plan a memorable senior year.
That is, until Cassie tries to kill herself.
Savannah wants to understand what happened, but Cassie refuses to talk about it and for the first time, Savannah has to find her own way. The only person she can turn to is Marcos, the boy who saved Cassie's life. Being with him makes her see who she could be and what she really wants: gymnastics.
But Cassie doesn't approve of Marcos or of Savannah going back to gymnastics, and the tighter she tries to hold onto Savannah, the farther it pulls them apart. Without Cassie to call the shots, Savannah discovers how capable she is on her own—and that maybe her best friend's been holding her back all along.
The author..
connect: twitter | website | goodreads page | facebook
Though Diana Gallagher be but little, she is fierce. She's also a gymnastics coach, writing professor, and country music aficionado. She holds an MFA from Stony Brook University and writes about flipping-related activity for The Couch Gymnast. Her work has also appeared in The Southampton Review and on a candy cigarette box for SmokeLong Quarterly. She's represented by Tina Wexler of ICM Partners.
The Interview..
Hi Diana!! Thanks for stopping by on the blog!! We're so excited! To start off, can you tell us a little bit about yourself? 🙂
I'm thrilled to be here! I hail from the fine state of New York, where I write between coaching gymnastics and teaching college English. I hold an MFA from Stony Brook University.
Your debut is  Contemporary Romance, is this the genre you originally wanted to write?
I went to grad school planning on writing creative nonfiction, but my mentor kept pushing me to complete a novel that I'd begun in his class. During that process, I realized I really enjoyed writing fiction – especially contemporary. It's what I've always been drawn to as a reader.
How would you introduce Savannah and Cassie to us?
Savannah and Cassie have grown up together. Their friendship is built upon on summers at the beach and nights spent driving around aimlessly and blasting their favorite songs. Savannah is disciplined and driven, while Cassie prefers following her own rules. Although they're quite different, they've always been able to tell each other everything.
The title and the cover of the book is really eye catching, how did you decide it? And will you change anything if you could?
Thank you! I love the cover! Jenny Perinovic designed it, and when it appeared in my inbox, my jaw dropped. I think it fits the novel perfectly. My title, in fact, did change. It was originally WHAT HAPPENS IN WATER (and there's still plenty of water to be had!). 
Who is your favorite character to write? And the not-so-favorite one? Can you share with us why?

I loved writing Savannah, especially when she's 1) with her dad and 2) in gymnastics mode. Cassie was more elusive at first; she's reluctant to reveal how she's truly feeling, so I had to spend some time in her head to figure out what makes her tick.

 What will readers expect from the romance aspect in this book?
Savannah and Marcos's romance is rooted in their belief in one another's dreams. As the novel opens, Savannah's confidence is all but gone. Thanks to an injury, she's lost her chance to compete in college gymnastics. In fact, she can't even manage to pass her driver's test. Marcos, in turn, aspires to win a scholarship and become an engineer, but he's faced with the reality that he's poor and works so many hours that it affects his grades. They push each other to be better than they believe they can be.
We can really perceived that Lessons In Falling will touch some tough issues, like., suicide.. I'm wondering if there's a certain event or person or a question that inspired you to write it?
I can distinctly recall walking into high school on the mornings after something tragic had happened and hearing the silence. Seeing the teacher's face. Trying not to speak too loudly. Every year of my high school experience, someone passed away – whether due to an accident or suicide.

Additionally, Marcos faces stereotypes and racism in their town that's middle-class white with a growing Hispanic population. While the town is fictional, this tension is a reality in many areas of Long Island (where the story is set), and it's escalated to violence more than once.



While writing the book, did you learn some lessons as well? Share us a bit of your experience



I sure did!

–Be keenly aware of your characters' motivations. When I drafted this back in grad school, I had no idea where it would take me. When it came time for revisions, I had to look deeply into each character to find out what was driving him or her. What do they want? What's stopping them? What are they willing to do get what they want.
–When in doubt, get in someone else's head. I'm a big fan of freewriting, and when I'm stuck with a character, writing from their perspective always reveals something I didn't know about them.
-Have fun! One of my favorite scenes is about two-thirds of the way through the book, and it's one of the first I wrote. What I remember most was how exhilarating it felt to write it. Go out of order. Be messy. Enjoy it.
 Are you working on something new already? Do you have a WIP that you can tell us about? 🙂
I am indeed hard at work! I'm working on another contemporary YA that features an ensemble cast on a rather unexpected road trip. It's more challenging structurally than anything I've written before, but I'm excited to see how it works out.



Lastly, what's your three current YA favorite?



Three books I've read recently and love are all fellow 2015 debuts:

-IN A WORLD JUST RIGHT, Jen Brooks – a contemporary that flips the genre on its head




-ONE OF THE GUYS, Lisa Aldin – the rare book that made me laugh out loud




-CONVICTION, Kelly Loy Gilbert – an exploration of dark and compelling family relationships
Thanks again, Diana for the Q&A!
Because Diana is awesome as ever, she did a guest post about her inspiration when it comes to the setting of Lessons in Falling. Diana doing a handstand is personally my favorite!
LESSONS IN FALLING is set in the fictional town of Ponquogue, NY. In reality, Ponquogue consists of a bridge, a boat launch, and an eponymous beach:
View from the top of the bridge. The bridge (called South Cross in the book) is the setting for several scenes.
Where Savannah and Cassie worked for the summer. Not a bad view!
Under the bridge, also the setting for some pivotal scenes. (That's me in a handstand – Savannah would be proud.)
The Giveaway..
One winner will win a book of their choice from Diana's favorite YA books! 🙂
What'cha think the interview? Will you be reading this Lessons in Falling? Thanks for stopping by 😀 And don't forget to share your thoughts!