Author Takeover #004: Emily Adrian, author of: 'LIKE IT NEVER HAPPENED
Author Takeover is a new feature here in HBT where we let our current favorite authors took over the blog. Expect Guest Posts, Interviews, LOTS of Playlists, giveaways and of course, a bunch load of FUN!
---
Okay, first, let me thank you all who supports this new-ish feature of HBT. I really appreciate it and I hope you guys keep coming back and keep supporting the awesome authors we feature. Today, we'll be featuring another 2015 debut author. My hands are itching for her upcoming book!! And I KNOW that some of you guys are too 😉 So, without further babbling from me, let's all welcome and say hi to EMILY ADRIAN! Author of the upcoming, LIKE IT NEVER HAPPENED <3
The Book..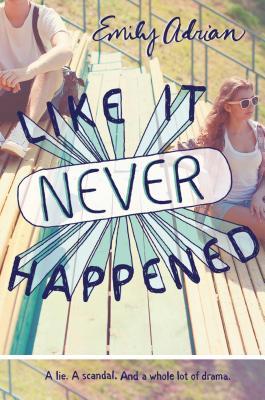 Expected publication: June 2nd 2015 by Dial Books

YA > Contemporary | Romance

 
About the book..
Stereotypes, sexuality, and destructive rumors collide in this smart YA novel for fans of Sara Zarr's Story of a Girl, Siobhan Vivian's The List, and E. Lockhart's The Disreputable History of Frankie Landau-Banks.

When Rebecca Rivers lands the lead in her school's production of The Crucible, she gets to change roles in real life, too. She casts off her old reputation, grows close with her four rowdy cast-mates, and kisses the extremely handsome Charlie Lamb onstage. Even Mr. McFadden, the play's critical director, can find no fault with Rebecca.

Though "The Essential Five" vow never to date each other, Rebecca can't help her feelings for Charlie, leaving her both conflicted and lovestruck. But the on and off-stage drama of the cast is eclipsed by a life-altering accusation that threatens to destroy everything…even if some of it is just make believe.
The author..
connect: twitter | website | goodreads page
The Interview..
Hi Emily! Thanks for stopping by. Can you tell us a little bit about yourself?
Sure! I'm originally from Portland, Oregon, but now I live in Canada with my husband and our boisterous dog. I like big cities, swimming pools, spicy food, and animals of all sizes.
Many novels are inspired by a single question. Was there one that sparked Like it Never Happened?
I think the question was: Is it possible to make a perfect distinction between our true selves and the various roles we play?
Describe your debut, Like It Never Happened,  in 5-7 words for us

.
When all your friends are actors.
How did you decide your novel's book cover? Which, by the way, is very gorgeous!!
The cover was designed by Kristin Logsdon at Penguin, and I adore it. I think the typography captures the book's levity, but the distance between the boy and the girl on the bleachers hints at the darker side of the story.
How would you introduce your main character to us?
Rebecca Rivers keeps a lot of secrets.
It is obvious that your book will have a huge music/playwrights aspect, what kind of researches did you do?
Well, in the early chapters of my book, the characters perform The Crucible by Arthur Miller and The Seagull by Anton Chekhov, so I got to know those texts pretty well. And then for most of my book, Rebecca and her co-stars are rehearsing for A Streetcar Named Desire, a play by Tennessee Williams. I had to cast my own characters as Tennessee Williams' characters, and I had to think about how mine might let their on-stage roles seep into their off-stage lives. So I ended up reading Streetcar over and over again while I was writing Like It Never Happened. I also watched the 1951 film version a few times.
What are your three current YA favorites?
I'll Meet You There by Heather Demetrios, Gabi, a Girl in Pieces by Isabel Quintero,All The Rage by Courtney Summers
Thanks again, Emily for the Q&A! We're excited to hear the playlist that you'll be sharing with us! Scroll down for the tracks. (SPOILER: They're all aweome)
Playlist for Like It Never Happened
Say You Don't Want It – One Night Only
All These Things That I've Done – The Killers
You Said Something – PJ Harvey
Fade Into You – Mazzy Star
The Biggest Lie – Elliott Smith
Metal Heart – Cat Power
Call It Off – Tegan and SaraI Know It's Over – The Smiths
I Feel It All – Feist
What'cha think of the new feature? Will you be reading this book? Thanks for stopping by 😀 And don't forget to share your thoughts!