REVIEW/GUEST POST/SNEAK-A-PEEK: BuqoYA5: Perfect Moments
Hi!! Thank you for stopping by! Its the last bundle I will feature on the blog for the #buqoYA tour! Hats off to every Pinoy authors who shared their talents and their skills to everyone! I admire all of you and can't wait to read more from you guys. As usual, I have excerpts for you all, and a review. Also, don't miss the exciting Guest post! Don't miss out in the giveaway and all my review for each of the story is posted on Goodreads
---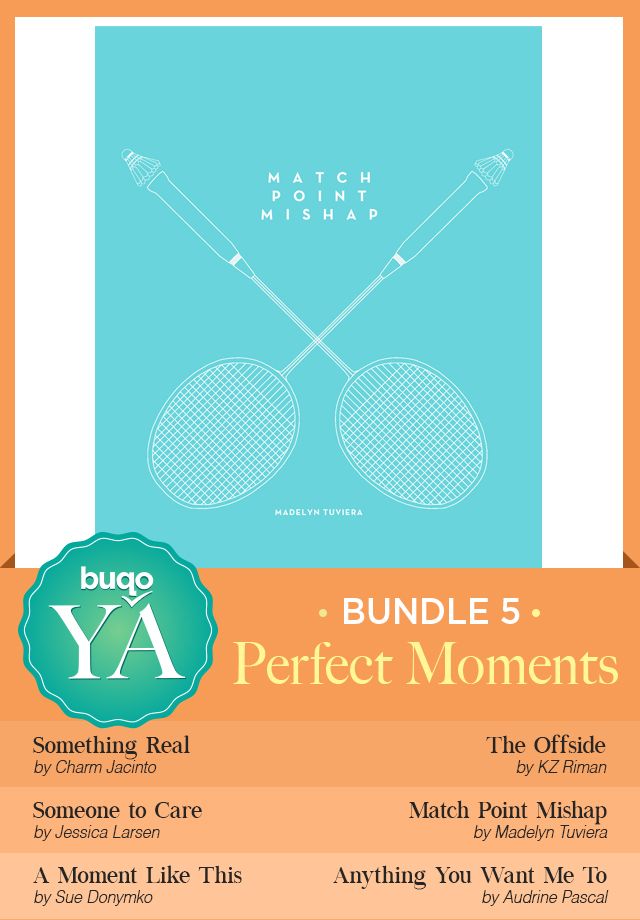 Perfect Moments

 

Sometimes you'll meet your match: at detention, on the badminton court, in a resort hotel in Davao, at a lab, in a foster home, at an epic party. You'll never know. But always keep your heart ready for that perfect moment. Read these stories and experience the bliss of first love.


 




Purchase link:

Buqo
This bundle includes:
A Moment Like This by Sue Donymko
Kris Mercado and Noel Abad are trapped in a posh resort hotel in Davao City during a particularly bad flood. After spending almost everyday together, they realize that they are undeniably attracted to each other. But reality bites as usual, and they now have to decide whether to chalk their romance up to forced circumstances or to explore what could be the sweetest love they've been looking for…
Excerpt..
A few minutes later, Noel came out wearing shorts and a snug shirt. His legs were quite hairy, and she caught a glimpse of his trim stomach when his t-shirt lifted as he dried his hair. Kris told herself to quit staring or he might think she's the maniac.

He laid down on the bed, made himself comfortable, and closed his eyes before acknowledging her statement. "Okay, what do you want?" he said tiredly.

"That's it, what do I want?" she asked incredulously.

He looked at her and raised both eyebrows. "It's not as if I don't know what to not do such as not stare at your legs if you wear shorts," he said innocently, but his eyes held a teasing gleam.

Kris flushed. "Touché. Okay, no staring. No going to each other's beds. No undressing in front of each other, no leaving dirty clothes on the floor. I don't want to see your underwear!"

"What makes you think I wear any?" he said, closing his eyes again.

She gaped at him until he started smiling.

He forced himself to sit up and look at her seriously. "I'm really not going to take advantage of you. I know we're still in our hormonal years, but I do act like a human being ninety percent of the time," he said.

This time, she was prepared for his teasing. "And ten percent of the time?" she asked lightly.

"That's when I start scratching my head with my feet, start licking my balls, and howl at the moon," he said with mock seriousness before laying down on his bed again.

Kris couldn't help but laugh at that imagery. She caught him smiling just before he fell asleep.
Anything You Want Me To by Audrine Pascal
Oh, Via. Such in a hurry to have a boyfriend. Now look who got dumped on social media, just before the epic party happening tonight.

So why is she hanging out with Franco Castañer? It's all good – Via's always been immune to all that yummy goodness, him being her best friend's brother and all.

But is Franco actually being flirty? Or is she just reading too much into this? How exactly do you decode the species they call boy?
Excerpt..
"So where's Via's boyfriend?" I catch someone blurt out.

I'm supposed to debut Kyle Olvera tonight. I'm supposed to introduce him to all my friends. I'm supposed to make them all drool in envy, because he's gorgeous and rich and totally hot for me. I'm supposed to drink and dance with him by my side. I'm supposed to take a million make out selfies when we're good and properly smashed.

Where's Kyle? The photo saved in my phone flashes before my eyes. Didn't you see the picture online? It must've been shared a million times by now. He's busy. Busy kissing someone else!

I was already home yesterday when my phone chirped to notify me that Kyle had just created a post. I opened the app to find the picture that would make me stumble backward and stifle an outraged scream.

It's a close up. There's Kyle's unmistakably angular profile and it's pressed against a face that isn't mine. Pink lips, delicate cheekbones and unbelievably thick lashes that can only be fake or unfair. The caption: #todaywasafairytale.

Fairytale? What kind of a banal hashtag is that?

The girl is tagged in it. Who the expletives-that-would-make-my-dad-faint is Nicole Valencia? Who does she think she is? Doesn't she know anything about Kyle and me?

He posted it. He wants me to see it. He wants everyone to know.

A boy breaking up with a girl is already bad. A boy breaking up with a girl, then getting it on with another one, is a jerk. A boy breaking up with a girl via text is listed in the dictionary under the word 'asshole'.

But a boy breaking up with a girl, using a picture of him sticking his tongue down someone else's throat, uploaded on social media?

OMFG, I want to die.
Something Real by Charm Jacinto
Hailey's principle is heart over mind. It's Rick or nothing at all. Brett's scholarship comes first. His, was mind over matters of the heart. A laboratory experiment in Physics brought them together making their lives entangled with each other. From lab partners to having a crossfire of misread signals to friendship. Will they ever find the perfect formula when it comes to the principle of love?
Review..
This is such an excellent story. All the elements of a swoony and realistic tale was done in here so I can't help but love it. I was rooting for the characters to get together from the very start because, well, the chemistry was there. Two characters that seems so different and looks each other as a stranger couldn't be more perfect.

Brett is so refreshing to read. There's a hint of mystery that surrounds him and he's the kind of guy who gives astig or cool vibe whenever he's around you.. that's why you can't help but have the urge to get to know him. Hailey grew up. From the start, it was so obvious that she needs some development. I was hurt for her too from all the things she experienced. Some things need to be learned in a hard way.

Overall, this was such a sweet and charming story. Its about moving on, finding your passion and letting love find you. You get hurt but you learn a lot too.
Match Point Mishap by Madelyn Tuviera
"Shit happens to the best of us," goes a saying, and Lester Torres, a now-starving student-artist, cannot agree more. The family business has reached a steady decline. His parents are distraught. His education is at the risk of being put on hold because tuition's too expensive, impractical. Something they are no longer able to afford. Unwilling to give up, he tries to apply for an athletic scholarship in the hope of keeping the dream alive. He was in the high school badminton varsity team, after all. Might as well put his dormant skill to good use, right? He aces the first few matches, winning them in a breeze, and thinks that he's got this scholarship in the bag already. Easy as pie.

Enter a talented player by the name of Wency David, and Lester lands the first missed service of his game.
 Excerpt..
Wency gave him a long look, sucking in his bottom lip as he did so. He tilted his head, squinted his eyes. It was almost as if he was studying Lester, and maybe he was. Maybe this was what Wency did during down time, between matches – watch people move from one side of the court to another, trying to see if there was anything in their normal actions, gestures, reactions that could allude to the next shot they were going to make, or the block they planned to deflect his shots with.

"You look familiar," Wency whispered. Slowly, he bent his knees before getting down on all fours, looking up at Lester through the narrow gaps of his bangs. "Very familiar."

Lester took a deep breath. He was really bad at names, but he was dead sure he hadn't seen Wency prior to the try-outs at the start of the week. His memory of faces and anything visual was impeccable, after all. So it only made sense that if they'd at least bumped into each other in a tournament or in school, Lester would've recognized him, picked him out from the crowd of aspirants hoping to make the badminton team. He didn't have the biggest social circle, but having Jude and Jessica as close friends made him friends with everyone by extension.

And when he mentioned a certain 'Wency David' to both of them, they'd only said, "Oh wow, you remembered his name. Must've been really good, huh?"
Someone to Care by Jessica Larsen
After her parents die in an accident, Jennelle is passed around by her relatives. Hindi siya tumatagal ng isang taon sa piling ng mga kamag-anak bago siya itulak ng mga ito patungo sa iba. At fifteen, nalibot na yata niya lahat ng isla sa Pilipinas. Not that she cares, because she has learned from the moment she loses her parents that not getting too involved with anyone will keep her from getting hurt. Subalit nagbago ang lahat ng iyon nang makilala niya si Valentine, ang adopted son ng distant relative niya kung saan siya sunod na titira. Like her, Valentine has been orphaned at a young age, but unlike her, Valentine loves to keep everyone close—except her. And as if sharing a home wasn't enough of a torture, they would also be attending the same school
Guest Post
Five Similiraties of the characters with the author.

They say that authors use to left a piece of themselves in their stories, surprisingly for so many drafts stuck in my PC, I'm still complete, and nothing seems to be missing. (Chuckles.) Okay, let's get serious.

When I read what's the "5 similarities between my characters and me" as one of the guest post topics for this blog tour, I frowned. Wow, that was a hard question to answer.

I never thought about it when I was writing "Someone to Care." I simply focused myself on writing the story about two very different teenagers with the same wish. But as the story goes, and I came to know Jennelle, I thought that she was far from me. I'm a bit more like Valentine, cheerful, friendly (ehem) and loves to be surrounded by friends. However, now that I'm facing the question, I realized that, though, I may be more like Valentine, I actually had planted some piece of myself on Jennelle.

Here are the five things I could think of:

1) Her hair! I've cut my bangs now, but I have a long bangs at the time I wrote the story. (Trust me, I didn't mean to do that.)

2) She's resentful. Yeah, it's quite hard for me to forgive anyone who did something wrong.

3) Easily embarrassed. I tend to do silly stuff, but when someone caught me in the act I can't help, but wish to find a cave I could crawl in and hide.

4) Wish to be liberated. It took me some time, but it's been my long wish to be able to wear a bikini in public without a problem.

5) And the most obvious, something that I unconsciously wrote. Parents love. My life is far from Valentine and Jennelle's story, but wanting a parents love is the biggest thing we have in common.

Well, that's about it.
The Offside by KZ Riman
All I wanted was to move on to sophomore year. And, of course, to have Soccer God Mattheus Estevez back into my life, despite my brother's incessant demands that I stopped dating jocks. What I didn't count on, though, was to go through detention work with Geovanne Estevez, Mattheus' identical twin brother, just so I'd realize both. And what I found baffling about it all was how Geovanne seemed to be putting a lot more effort into it than we had all bargained for, making this detention the best one yet.
 Excerpt..
I turned away the moment Geo tried to kiss me. It just didn't feel right. None of these, however real they felt to me, was right. Everything was so wrong. Everything that led to this night had been lies – that photo wall, that chance to be with Matt again. If it was me who had been blindsided, I didn't know. What I did know was that he was putting an end to it all.

"What are you doing?" I asked, my heart thudding against my chest. I'd push him out if I had the strength to do so, but having him that close to me drained me of my will.

He didn't move nor did he say a thing after that, but I could feel tension slowly rising between us, the distance too close no matter how much I tried to get away from him. I couldn't breathe. I felt my knees wobble, and I sat on my bed, calming myself.

"Zoey, I really like you," he said.

"Please don't." It was a whisper.

"But I do. I do like you…"

"How could you do this to me?" I yelled at him. What kind of a sadistic asshole pushes a girl to the boy of her dreams, does sweet things for her and then tells her that he likes her, too?
AUTHORS:
Sue Donymko
Sue Donymko lives and works in Manila, Philippines. When not writing or working, or working some more, she eats, watches a lot of television, sings — much to the neighbors' dismay — and reads until she falls asleep.
Audrine Pascal
My heels are sky high. Always.
Charm Jacinto
Charm Jacinto's first choice of books are historical romances written by Barbara Cartland, Julie Garwood and Jude Deveraux way back in college. She graduated as BSBA major in Human Resources Development but had an epiphany that her path leads to still helping people but more on the medical side. Her life became more meaningful because of her husband and daughter who encourages her to be the best that she can be.
Madelyn Tuviera
Madelyn Tuviera is a twenty-something woman whose ideal way of spending a day is sipping coffee while writing (and trying not to spill coffee on said output). She started writing when she was in fifth grade and hasn't looked back since. She's grossly fascinated with drama, romance, and tiny creatures that can be tamed and kept in capsules. She does not grammar on weekends. But she does think of writing 99.9% of the time.
Jessica Larsen
Jessica E. Larsen is a hopeless romantic, who will forever be young at heart. She enjoys traveling a lot, drawing inspiration from places she visits and interesting people she encounters. She loves to read, and writes in different genres and spends hours arguing with her characters. At times she likes playing the villain and gives them a taste of hell when they refused to listen to her demands.

Jessica was born in the Philippines and lived in Spain since she was eighteen.
KZ Riman
This romance, erotica and fantasy author spends each moment of her days writing. She spends her free time — if she ever gets any pf that — inside her room, where she reads steamy novels and watches romantic comedies.

KZ is a pure-bred Filipina who lives with her family in Tarlac City, Philippines. Growing up, she has dreamed of becoming a novelist and screenplay writer, and has written countless stories, which she shares with her friends. Now, she dreams further by sharing her imagination to the world.
GIVEAWAY:
TOUR HOST:
Oops, I Read A Book Again tours