AUTHOR TAKEOVER #006: Marci Lyn Curtis, author of: "THE ONE THING' + giveaway!!
Author Takeover is a new feature here in HBT where we let our current favorite authors took over the blog. Expect Guest Posts, Interviews, LOTS of Playlists, giveaways and of course, a bunch load of FUN!
---
You guys,  I am so excited to have Marci on the blog today! She's so sweet and full of awesome. Read through the interview that we did and be sure to enter the giveaway!
The Book..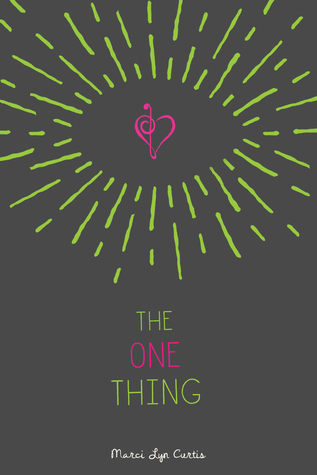 Expected publication: September 8th 2015 by Disney-Hyperion

YA > Contemporary | Romance

 
About the book..
"A soaring tale of life and love, of sacrifice and renewal, and learning to see people as they really are."
Maggie Sanders might be blind, but she won't invite anyone to her pity party. Ever since losing her sight six months ago, Maggie's rebellious streak has taken on a life of its own, culminating with an elaborate school prank. Maggie called it genius. The judge called it illegal.
Now Maggie has a probation officer. But she isn't interested in rehabilitation, not when she's still mourning the loss of her professional-soccer dreams, and furious at her so-called friends, who lost interest in her as soon as she could no longer lead the team to victory.
Then Maggie's whole world is turned upside down. Somehow, incredibly, she can see again. But only one person: Ben, a precocious ten-year-old unlike anyone she's ever met.Ben's life isn't easy, but he doesn't see limits, only possibilities. After awhile, Maggie starts to realize that losing her sight doesn't have to mean losing everything she dreamed of. Even if what she's currently dreaming of is Mason Milton, the infuriatingly attractive lead singer of Maggie's new favorite band, who just happens to be Ben's brother.
But when she learns the real reason she can see Ben, Maggie must find the courage to face a once-unimaginable future…before she loses everything she has grown to love.
The author..
connect: twitter | website | goodreads page | facebook
Marci Lyn Curtis grew up in Northern California, where she went to college and met an amazing guy in a military uniform. Two college-aged kids and one dachshund later, she lives in Maryland, where she laughs too loudly and eats peanut butter off spoons. Her YA contemporary debut, The One Thing, comes out September 8th, 2015 via Disney-Hyperion.
Say hi to her on her at marcilyncurtis.com.
The Interview..
Hi Marci!! Thanks for stopping by on the blog!! We're so excited! To start off, can you tell us a little bit about yourself? 🙂
Hi Paula! Thanks so much for having me!


Let's see…me in a nutshell: I was raised in Northern California (which explains why I'm an almost-hippie/vegetarian/general nutcase), where I went to college and met my husband. He's in the Coast Guard, sowe've lived all over the United States: Florida, Los Angeles, the Big Island of Hawaii, Tennessee, Connecticut, Honolulu, and now Maryland. I also have huge lovefor international travel. The moments I've spent in Belize, Honduras, Mexico, Germany, France, and Italy were some of the biggest of my life.


What else? Ah. Well. Sometimes I have a day-job in radiology. By "sometimes" I mean I go in a few days a month in order to talk to people who aren't fictional. And by "in radiology" I mean that I do MRIs and mammograms. (i.e. I cram people into small, noisy tubes and squash squash SQUASH breasts.) 😉

Your debut is a Contemporary Romance, is this the genre you originally wanted to write?
Absolutely! Although I like to keep the romance secondary to the real meat of the plot, because I believe strongly that real change, real growth, does not occur because you meet someone great, but because you overcome something great.
How would you introduce your main character to us?
Ahhh…Maggie. Maggie. I wrote this book because I couldn't get her out of my head, so I could probably write a 300-page biography on her. 😉 In short, she's hilarious, stubborn, strong, and, very recently, visually impaired.
Your book cover is really gorgeous, but would you change it if you could? And how did you decide on the cover?
Great question, Paula! Here's the thing about The One Thing: it's about a lot of things. My cover's illustration somehow manages to weave many of these moving parts together, something that would be incredibly difficult with a model and a camera. Also, my cover is unique—it stands out. I like the fact thatonce it's sitting on a shelf it won't blend in with all the others.
As far as the cover decision, after the Hyperion team chose the illustration, they sent me five or six different color schemes and allowed me to weigh in on the final cover.

Who is your favorite character to write? And the not-so-favorite one? Can you share with us why?
This is a tough question, because I'm extremely attached to all of my characters.If I exclude Maggie from this, I'd have to say my favorite is ten-year-old Ben, who stole my heart every time I wrote him into a scene. Ben completely owns his life, including his spina bifida, and is a testament to What Can Be instead of What Isn't.

I honestly don't have a least-favorite character. I'm crazy about all of them. I'll tell you this, though: there was a character (Clarissa, a classmate of Maggie's), who my editor urged me to pull into the storyline during the revision process.

My editor: "Let's develop Clarissa some more and weave her into the plot!!!"




My immediatethought: Um. Let's not. She's too boring to breathe air.

You know how you feel when you have a pebble stuck in your shoe, but don't have the opportunity to stop and shake it out? That feeling? That was Clarissa for me.She was my pebble. Possibly even a my boulder. But after many days of creative cursing, several late nights, and one very big ah-ha moment, I changed her personality completely and ended up falling in love with her
It is obvious that your book will have a huge music aspect, what kind of researches did you do?
Luckily, I didn't have to do a lot of research on this aspect of the novel. I've always been passionate about music, so that part of the story seemed to fall right into the plot without any extra work on my part.
What will readers expect from the romance aspect in this book?
I don't want to give up too much of the plot, so let's just say the romance is slow-burn, and runs the gamut through the storyline: love-hate, friendship, and, well…passion.
The synopsis really sounds super unique, what kind of research did you do?
Oh wow. This story required a crazy amount of research. So much so, that I gave up on the book several times overin the very beginning, only to be dragged right back into it by the nagging storyline and a huge cast of characters that I just couldn't shake from my head. Fact is, this book seemed so much bigger than me. I'm not visually impaired, nor do I know anyone visually impaired.I didn't want to marginalize visual impairment, but at the same time I didn't want it to be the focus of the novel. So I spent days/hours/months researching blindness online.

How did the idea of the book come to you? Is there a question or a person or something that inspired you to write The One Thing?
I wish I could say that I had this Big Moment or a Big Dream where something inspired me to write this story. Truth is, I have no idea when or how or why the story came to me. All of a sudden it was just…there, picking at the back of my brain until I started making notes. Eventually those notes grew into a folder, which grew into a clumsy first draft, which grew into a story that has become extremely close to my heart
Are you working on something new already? Do you have a WIP that you can tell us about? 🙂
Yes! I can't say too much about it, but in a nutshell it's about an orphan pickpocket forced to live with the uncle who betrayed her family. There's more, naturally. Ooooo…there's more. Romance. Deception. Surfing. Shocking revelations. Violins and—

Gah! Okay. Shutting up now.
Lastly, what's your three current YA favorite?
Oh boy. I have so many current favorites…do I have to pick just three? Jandy Nelson's I'll Give you the Sun absolutely slayed me on every level…Jennifer Niven's All the Bright Places was basically genius…and—OHHHH—Katya Millay's Sea of Tranquility. Jeesh,I could go on and on and on, but for the sake of space, I'll end there. 😉
Thanks again, Marci for the Q&A!
Because I can't let this post go by without a playlist, I asked Marci if she can share some song that she listened to while writing her book… and here it is you guys! You never know, one of these songs might inspire you to write! 😀
Coldplay: "A Sky Full of Stars"
Elle Goulding: "Figure 8"
Goo Goo Dolls: "Not Broken"
Papa Roach: "Scars"
Black Keys: "Gold on the Ceiling"
Imagine Dragons: "Radioactive"
My Chemical Romance: "Ambulance"
Foo Fighters: "The Pretender"
Zedd: "Clarity"
Press the play button if you want to listen to playlist!
The Giveaway..
This is open internationally! and the giveaway is only open for a week!
What'cha think of the new feature? Will you be reading this book? Thanks for stopping by 😀 And don't forget to share your thoughts!