AUTHOR TAKEOVER #010: Kim Liggett, author of: BLOOD AND SALT
Author Takeover is a new feature here in HBT where we let our current favorite authors took over the blog. Expect Guest Posts, Interviews, LOTS of Playlists, giveaways and of course, a bunch load of FUN!
---
BLOOD AND SALT is absolutely one of my most anticipated book this year. The cover, the synopsis… it all sounds awesome and epic! I'm so honored to have KIM today on the blog. Read the interview that we did and find out more about her and the book! You can win one of Kim's favorite 2015 book too!
The Book..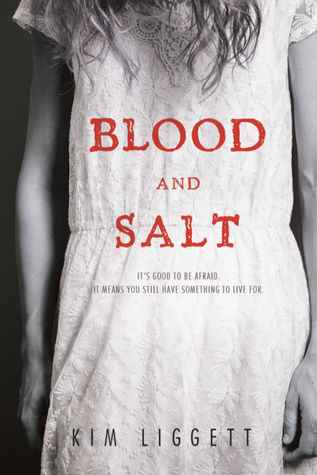 Expected publication: September 22nd 2015 by G.P. Putnam's Sons Books for Young Readers

YA > Fantasy | Horror

 
About the book..
Romeo and Juliet meets Children of the Corn in this one-of-a-kind romantic horror.

"When you fall in love, you will carve out your heart and throw it into the deepest ocean. You will be all in—blood and salt."

These are the last words Ash Larkin hears before her mother returns to the spiritual commune she escaped long ago. But when Ash follows her to Quivira, Kansas, something sinister and ancient waits among the rustling cornstalks of this village lost to time.

Ash is plagued by memories of her ancestor, Katia, which harken back to the town's history of unrequited love and murder, alchemy and immortality. Charming traditions soon give way to a string of gruesome deaths, and Ash feels drawn to Dane, a forbidden boy with secrets of his own.

As the community prepares for a ceremony five hundred years in the making, Ash must fight not only to save her mother, but herself—and discover the truth about Quivira before it's too late. Before she's all in—blood and salt.
The author..
connect: twitter | website | goodreads page | facebook
At sixteen, Kim Liggett left her rural midwestern town for New York City to pursue a career in both music and acting. While attending the American Academy of Dramatic Arts, Kim sang backup for some of the biggest rock bands in the 80′s.




After settling down to have a family, she became an entrepreneur, creating a children's art education program and a travel company specializing in tours for musicians.




She's married to jazz musician Ken Peplowski, has two beautiful teens, and a very neurotic dog that drags her through Riverside Park everyday on the Upper West Side of Manhattan.
The Interview..
1. Hi Kim!! Thanks for stopping by on the blog!! We're so excited! To start off, can you tell us a little bit about yourself? 🙂
I'm a former backup singer—turned entrepreneur—turned author. I started writing Blood and Salt as a love letter to my daughter. She was going through a tough breakup from her first crushing love and I wanted to show her how I saw her—how strong, complicated, interesting, beautiful and brave I thought she was. I only meant to write a few chapters and then I just couldn't stop. And now I have four books under contract with two different publishers.
2. Your debut novel, Blood and Salt, is pitched as Romeo and Juliet meets Children of the Corn, we're really curios on how did this idea came to you. Can you share how did the whole concept materialized in your head? 🙂
I love horror and I love romance. They call it romantic horror, but I prefer Hormance.
3. How would you introduce your main character, Ash, to us? Did you have a particular muse for her?
Absolutely. My muse was my daughter, Maddie. Ash's twin brother Rhys is based on my son, Rahm.
4. The title and the cover of the book is really eye catching, how did you decide it? And will you change anything if you could?
I developed an extensive Pinterest board for Blood and Salt, which the designers used as inspiration. My editor sent over the cover—I loved it—and that was the end. It's not the most elaborate cover of all time, but it's perfect for the book. Perfect. I wouldn't change a thing.
5. Why Kansas? Can you tell us about the setting of the book because it seems like a big part of the story.
I grew up in Kansas—a tiny town much like the town in BLOOD AND SALT (minus the creepy cult). As a kid, I felt like the land was magic—hidden away—a secret. I was a weird kid, with more imaginary friends than real ones. These were the stories I created to survive.
6. What will readers expect from the romance aspect in this book?
The romance is incredibly hot. You might need to fan yourself a little. ; )
7. Did something creepy or funny or even scary thing that happened while writing Blood and Salt?
I think I've blocked it out. This book has consumed the last five years of my life. Body and soul.
8. Are you working on something new already? Do you have a WIP that you can tell us about? 🙂
I just finished my first book for Tor Teen—It's called THE LAST HARVEST. That will come out in September of 2016.It's straight-up YA old-school classic horror.
And I'm currently finishing up the sequel to BLOOD AND SALT, which will come out in the fall of 2016.
9. Lastly, what's your three current YA favorites?
City of Savages by Lee Kelly
Unmarked by Kami Garcia
The Walls Around Us by Nova Ren Suma

Thanks again, Kim for the Q&A! Kim is also shared with us her inspirations while writing the book. You can check it out on her PINTEREST PAGE!! 
The Giveaway..
What do you guys think of BLOOD AND SALT? Will you be reading it? Share your thoughts!