2015 AUTHOR BASH: Michelle Falkoff, author of: Playlist For The Dead + Giveaway!!!
Welcome to my stop for the 2015 Debut Author Bash. I'm so excited to have Michelle on the blog today. I'm surelots of us have read her novel, Playlist For The Dead, and loved it. Read on to find out more about this amazing novel and get a chance to win a copy!
---
The Book..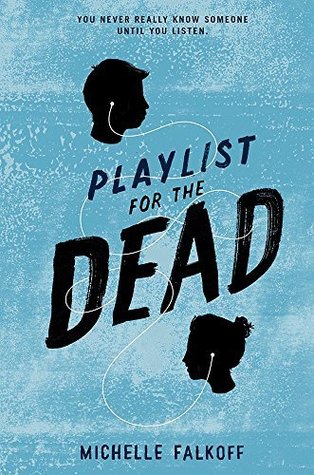 Published January 27th 2015 by HarperTeen
YA > Contemporary | Music
About the book..
A teenage boy tries to understand his best friend's suicide by listening to the playlist of songs he left behind in this smart, voice-driven debut novel.
Here's what Sam knows: There was a party. There was a fight. The next morning, his best friend, Hayden, was dead. And all he left Sam was a playlist of songs, and a suicide note: For Sam—listen and you'll understand.
As he listens to song after song, Sam tries to face up to what happened the night Hayden killed himself. But it's only by taking out his earbuds and opening his eyes to the people around him that he will finally be able to piece together his best friend's story. And maybe have a chance to change his own.
Part mystery, part love story, and part coming-of-age tale in the vein of Stephen Chbosky's The Perks of Being a Wallflower and Tim Tharp'sThe Spectacular Now, Playlist for the Dead is an honest and gut-wrenching first novel about loss, rage, what it feels like to outgrow a friendship that's always defined you—and the struggle to redefine yourself. But above all, it's about finding hope when hope seems like the hardest thing to find.
The author..
connect: twitter | website | goodreads page | facebook
Michelle Falkoff's fiction and reviews have been published in ZYZZYVA, DoubleTake, and the Harvard Review, among other places. She is a graduate of the Iowa Writers' Workshop and currently serves as Director of Communication and Legal Reasoning at Northwestern University School of Law. This is her first novel.
The Interview..
Hi Michelle!! Thanks for stopping by on the blog!! We're so excited! To start off, can you tell us a little bit about yourself? 🙂
I'm so excited to be here! I'm a New England native who's moved all over the country, most recently to Chicago. I used to be a lawyer, and for my day job I teach legal writing, as well as some fiction writing on the side.
Your debut novel, Playlist for the Dead has a very interesting synopsis,, we're really curious on how did this idea came to you. Can you share how did the whole concept of the book materialized in your head? 🙂
I was inspired a lot by Jay Asher's 13 REASONS WHY and John Green's LOOKING FOR ALASKA. Both were books about boys who'd lost girls they were interested in to suicide; I started thinking a lot about boys losing friends, which struck me as a different kind of thing. I've also always been really into music–I used to make lots of mixes when I was younger, and I gave a lot of thought to what kinds of messages go into into them and how it's both easy and hard to teach people about how we're feeling through music.
How would you introduce your main character, Sam, to us? Did you have a particular muse for him?
No muse in particular. He's just a character who seemed very genuine and lovable to me, but in some ways kind of clueless–he starts out the book assuming that he knows everything about the people around him, especially his best friend, and part of his journey is learning that sometimes people are struggling with much more than he realizes.
Is this the genre you originally want to write? What other genre would you like to try in the future?
When I think of genre, I think of mysteries versus fantasies versus literary fiction, that sort of thing. I've always written literary fiction, and I'm very into mysteries, so I've always written hybrids of those things. In terms of category, I started out writing for adults (or at least I thought I did), but I'm finding that I enjoy writing for teenagers more at the moment, so I'm going to stick with this for as long as the teenagers will have me.
The title and the cover of the book is really eye catching, how did you decide it? And will you change anything if you could?
I wish I could take credit, but I had help with both of those things–I'm terrible at titles, and I'm not very visual. I love both, and I'm super grateful for the help I got with them. I wouldn't change a thing.
What is the hardest thing you ever did while writing Playlist for the Dead? Can you share a bit of your experience?
At first, the hardest thing was getting in the mindset of someone who'd experienced what Sam was experiencing. I'd never lost someone that way, and you have to go to a pretty dark place to try and imagine it. While I was writing, a good friend of mine passed away very suddenly, and then the hardest thing became actually dealing with that. The writing, in a weird way, helped.
What will readers expect from the romance aspect in this book?
Um, disappointment? 😉
I tend to think relationships are really hard, no matter how old you are. And a relationship that starts under the kinds of circumstances the characters are dealing with here has a lot of pressure put on it that might be more than that relationship can bear. What Sam and Astrid have is complicated, and the book grapples with that in a number of different ways.
Are you working on something new already? Do you have a WIP that you can tell us about? 🙂
I am! It's called PUSHING PERFECT, and it's about a high school valedictorian who gets blackmailed into being part of a prescription drug ring. It should be out next fall, and I'm really excited about it.
Lastly, what's your three current YA favorites?
Oh, that's so hard! There are just so many good books out there. Three I loved recently were E. Lockhart's WE WERE LIARS, Becky Albertalli's SIMON VS. THE HOMO SAPIENS AGENDA, and Amanda Panitch's DAMAGE DONE.
Thanks again, Michelle for the Q&A!
Here's the Spotify playlist:
Thanks again, Michelle for the Q&A! I REALLY cannot wait to get my hands on a physical copy of your book! You're so awesome 🙂
The Giveaway..
What do you guys think of Playlist For The Dead? Will you be reading it? Share your thoughts!